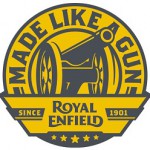 The Royal Enfield Bullet, first made in 1901, is one of the oldest motorcycle companies still around.
The Enfield Cycle Company is most famous for its Enfield rifle, and the 'Made Like a Gun' motto  of the motorcycle is not just a marketing tagline. The Enfield was probably enjoyed by English gentlemen going about their country roads, but our highways aren't altogether that different!!
Those who do not understand the Enfield motorcycle berate it for its lack of innovation and supposed unreliability, but there are more than enough Enfield lovers on the other side of the argument to have kept the bike alive for this long. Each bike definitely has her own personality, and if you take care of her, she gives it all back with the most pleasurable of rides. The Enfield will not be winning any speed tests against the more advanced Japanese machines, but she has a character that those newer models can never replace.
The signature thump of the Enfield and the smoothness with how she eats up the miles is what calls out to lovers of the open roads. Now just imagine you're doing it with a bunch of friends who love the same thing!
Here's a little video of a recce trip we did from Kathmandu to the nearest Chinese border and back.
Yes, it was a bit of driving, an adventure in a new place, and quite a bit of drinking. Quite a good trip, if I say so myself. We couldn't turn this into a full fledged trip because of border control and the difficulty in getting a one day pass for non-Nepalese, so we came up with this gem instead – the 7 day trip across Nepal.
We'll be taking in the best that Nepal has to offer – hillside villages, jungle safaris, mountain views, and of course the excellent winding roads that is the wet dream for any motorcycling enthusiast. If you are a biker, it might really be one of the best ways to catch the best of Nepal. Here's a brief itinerary for the trip:
Day 1: Test Run
Gather around our workshop and test out the bikes, go for a few short rides to get a feel of the bike on you. Last minute equipment check, ride briefing, and dinner and a few drinks to get to know all riders.
Day 2: Over the Hills and Far Away
We begin our journey getting out of Kathmandu, through the passes of the valley's hills, to the town of Hetauda. It is a relatively short day today, riding only for 5/6 hours, but we drive slowly to get used to the bike and the Nepalese traffic. It is a narrow, winding mountain road, and no one will be complaining for lack of thrills when we reach our destination.
Day 3: In Search of Serenity
The ride from Hetauda to Lumbini is a fairly straight stretch through low land jungles, a good day to bond with your Enfield. We reach Lumbini, the birthplace of Buddha, towards the evening and spend the rest of the day going around the ruins of the ancient city and newly erected Buddhist temples of the Lumbini Complex.
Day 4: For Those About to Ride, We Salute You
It is a good stretch today, with both straight sections and curves thrown in for balance, through one of the best maintained roads in western Nepal, across jungles and national park boundaries, towards Bardiya. Sometimes we follow the river, sometimes we follow the hillside, and sometimes we just connect the dots in the map.
Day 5: Jungle Lore
The Bardiya National Park covers some of the most pristine jungles in Nepal, and is famous for its wild elephant herds, tiger sightings and fresh water dolphins. After three days on the road, we spend a day foraying into Bardiya's jungles on elephant back and enjoy the charms of Mother Nature.
Day 6: The Long and Winding Road
We backtrack part of the way to Butwal, and take the old highway up to Palpa. Motorcycling road at its best!! Be warned though, it is a long and hard day after the rest day you got yesterday.
Day 7: Pokhara Paradise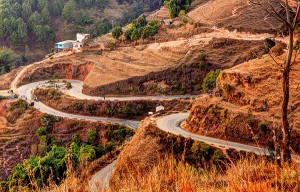 Driving from Palpa hugging the curves in our thumpers, we reach Pokhara after an energising day long ride. Pokhara is a truly blessed destination, a well developed city with modern amenities in a beautiful valley with snow capped mountains just a stone's throw away. No one gets bored in Pokhara!
Day 8: Homeward Bound
We drive back to Kathmandu today, with a stop over at Bandipur for lunch. And there you have it – ancient culture, teeming wildlife, raging rivers and snowy peaks. The best of Nepal, as promised. After countless turns and a total of 1500 km on the odometer, you've earned your bragging rights with new friends made and new horizons conquered. It's time for a well deserved celebratory dinner tonight!!
Depending on your flight schedule, we can add a few extra days before or after this trip to catch some more sightseeing / activities you may be interested in. Check out our Quick Trips section for ideas. Write to us at trip@fantasticnepal.com for a brochure on this trip, dates and costs.